The offending text (
humansarefree.com/2013/12/9-sc…
)

Okay children take your seats.


Scientific Fact No. 2 - Species Without a Link Prove Evolution Theory is Wrong

Your infantile attempt at a statement is not only
fallacious in regards to its
factually but it is also grammatically incorrect.


The evolutionist will claim that the presence of many individual species proves evolution. This shallow statement is devoid of reason, logic, and scientific proof.
You're a dumb bastard and I'm going to set your straw men on fire.

but I digress, no one has ever claimed that the existence of individual species in and of itself is proof of evolution the fact that all life can be classified according to there relatedness to each other in such an obvious manner (in most cases) that even without the help of DNA analysis you can classify organisms based on relatedness to a degree that would be impossible without common descent and that in the majority cases DNA confirms what can be observed from in-depth physiological categorization and even in the few cases wear this is not the case they are still in every case related to another group similar to themselves, that is why
phylogenetics in my opinion is one of the strongest cases for evolution. Your second sentence describes only your own statement.
Evolutionists line up pictures of similar-looking species and claim they evolved one from another. The human "family tree" is an example of this flawed theory. Petrified skulls and bones exist from hundreds of species of extinct monkeys and apes.

see above.


Evolutionists line up the most promising choices to present a gradual progression from monkey to modern man. They simply fill in the big gaps with make-believe creatures to fit the picture.

make believe creatures really, a creationist, telling me I believe in make believe creatures, but anyway the topic of how we know our paleontological finds are authentic is a very large topic (I think by now I have more than a right to say that) but if you are curious about the subject check out my "dinosaurs aren't real" series, or some scientific papers, or a book, maybe like a Wikipedia article or something, this shit isn't hard to find.


This procedure can be done with humans only because there are many extinct monkey and ape species. They never do this with giraffes, elephants or the Platypus. (...)
The pictures are simply a grouping of individual species that does not prove evolution.
No, literally every biological science supports evolution.


Why do they claim the above discovery is "close to the missing link"? The answer is simple. Look at the picture: It is a monkey.
Yes and so are you, maybe if you wrenched you ass from your intestinal tract once in a while you would notice that
A monkey species that has become extinct. Lots of species have become extinct. Millions of species have become extinct.


Yes and? What does it being extinct have o do with its relation to humans?
It is obviously not similar to a human. Look at the feet with the big toe spread away from the smaller toes exactly like a modern chimpanzee, not like people.
Actually your big toe is slightly separate from the rest of your toes, it has the largest gap between its neighbor and it is also capable of the most independent movement. We are the most terrestrial extant primate, this is consistent with the human foot on the diagram below the two other most terrestrial primates in the diagram below are gorillas and baboons, though not as terrestrial as ourselves they do spend a lot of their time on the ground, Orangutan and Lemur are the most arboreal of the primates represented here, this is all consistent with the diagram but observation of all of these obviously show common ancestry. it should also be said that as terrestrial animals Australopithecines have feet very unlike arboreal and semi-arboreal (like chimps) primates. and very similar to other terrestrial primates like ourselves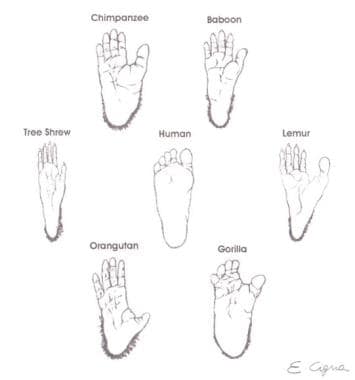 you also ignore all of the other traits we share with Australopithecines such as being bipedal, having characteristic simian Auricles, downward facing nostrils, highly reduced tails, a set of two pectoral mammaries, forward facing eyes...(I think I need not go on).
A newly discovered extinct species does not prove a "missing link" has been found.

It does and it has, also every species both extinct and extant is transitional, that is why I hate the term "missing link" and I have discuses this in grater detail in previous entries.


Charles Darwin admitted that fossils of the transitional links between species would have to be found in order to prove his "Theory of Evolution." Well, these transitional links have never been found. We only find individual species.
If by this you mean that he predicted if he was write extinct animals would be found with traits from both one group of similar animals and another (which he did) than by never you mean 1861, Darwin was alive at the time of this discovery and knew he was write about the dinosaur bird connection. it took many others a bit longer, and clearly some are still not on the same page.
Evolutionists try to form these individual species into a link according to similar major features such as wings or four legs, but this simply proves the Theory of Evolution to be a fraud. Darwin was hopeful that future fossils would prove his theory correct, but instead, the lack of transitional links has proven his theory to be wrong.
Literally all of that was nonsense.
The presence of individual species actually proves they were not developed by an evolutionary process. If evolution were true, all plants, animals, and insects would be in a continual state of change. No two creatures would be identical, because they would not be separate species.
(the two paragraphs were to similar to warrant independent response).
All life forms would be a continual blend of characteristics without a clear definition among the species. Everything would be changing, and every animal, insect, and plant would be different.
Except that they are, it's just your to slo- I mean It's to slow to normally be obvious.
The cheetah above proves evolution does not exist. All species are locked solidly within their DNA code.